Intramuscular Electrode
Distal Termination – wound cylindrical wire contact with polypropylene tined anchor tip
Electrode material
316 stainless steel alloy
Number of electrodes
One (monopolar)
Exposed contact area per electrode
10 mm2 minimum
Fixation into Muscle
Polypropylene tines
Lead wires
Fluoropolymer insulated 316 SS lead wires, coiled and tubed in silicone
Lead OD
0.050″ (1.27 mm) OD of silicone tubing
Lead Length
Standard – 30 cm (12″)
Special 4 – 90 cm (1.5 – 35″)
Distal termination options
Electrode surface area greater or lesser (length)
Electrode location greater from tined fixation tip
Proximal termination options
Flying leads (Unterminated bare wires)
Letechipia connector (Specialized connector)
IS-1 UNI (One IS-1 UNI)
Special (Per customer request)
The epimysial electrode lead design is licensed from Case Western Reserve University and is restricted to use for animal and bench research purposes.
Intramuscular Myoelectric Signal Recording Electrode (IM-MES)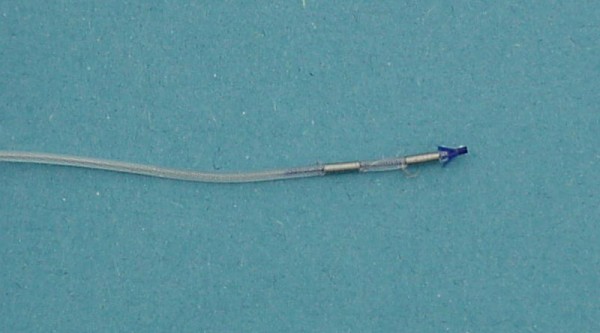 Distal Termination – Two wound cylindrical wire contacts axially separated on lead body with polypropylene tined fixation tip
Electrode material
316 Stainless Steel
Number of electrodes
Two
Exposed contact area per electrode
20 mm2 minimum
Spacing between contacts
Six millimeter spacing from proximal edge of distal contact to distal edge of proximal contact. Ten millimeter spacing between center of distal contact and center of proximal contact
Lead wires
Fluoropolymer insulated 316 SS lead wires, coiled and tubed in silicone
Lead OD
0.050″ (1.27 mm) OD of silicone tubing
Lead Length
Standard – 30 cm (12″)
Special 4 – 90 cm (1.5 – 35″)
Distal termination options
Per customer request – The distal electrode contacts may be modified as to surface area, location on the lead, and spacing between electrode contacts.
Proximal termination options
Flying leads (Unterminated bare wires)
Letechipia connector (Specialized connector, bifurcated proximal lead)
IS-1 Bipolar (One IS-1 Bipolar)
IS-1 Unipolar (Two IS-1 Unipolar bifurcated proximal lead connector)
Special (Per customer request)
Note:
Lead may also be used as a bipolar stimulation lead